Diversity, Equity and Inclusion Training for Every Level
bci's DEI workshops are designed to meet the development needs of any audience, with a focus on leadership teams, boards of directors, and equity-seeking communities. Whether you're looking for in-depth workshops or keynotes for your town halls, retreats, ERG events, and more, we have the expertise to help you. 
We offer advanced level programming to organizations that are well along their DEI journey, as well as foundational content to organizations that are just starting out. We are experts at navigating difficult DEI conversations with even the toughest, most skeptical audiences with grace, empathy, and tact.
Experienced, Practical Programming for Your Organization
Our facilitators have presented to hundreds of organizations around the world and bci is known for our niche content and expertise in a range of DEI areas. All of our programming is grounded in innovative, research-driven frameworks and are regularly updated to include the latest DEI research. Our DEI training focuses on practical, experiential learning so your team can immediately shift their behavior in real-world situations.
Foundations of Diversity, Equity & Inclusion
We have now presented our most popular workshop, "Foundations of Diversity, Equity and Inclusion", to tens of thousands of people around the world. This session is designed to help lay the building blocks upon which further DEI training can develop. Key learning takeaways from this session include:
A discussion on the imperatives for DEI and the key difference between diversity, equity, and inclusion
Key unconscious bias, cultural competence and allyship concepts and their impact on professionals from equity-seeking communities
Key forms of bias that manifest within organizations
How to develop your cultural lens to better interrupt biases and be more adaptive in working across differences
Strategies for becoming more inclusive and culturally competent when working with team members and clients from equity-seeking communities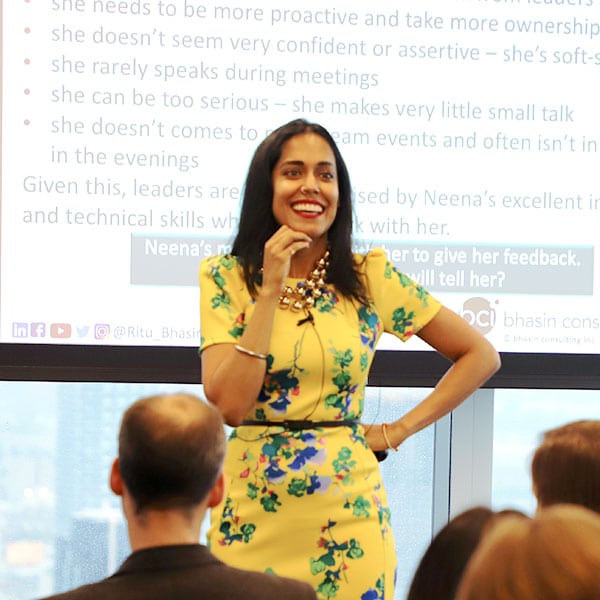 Other Foundations Training
We know that budgets and geography can sometimes be a challenge. We're committed to working with you to find the most cost-effective and impactful ways to deliver programming across regions, business units, employee groups and more.
Learn how to take your training to the next level by leveraging the Intercultural Development Inventory (IDI) with your teams. The IDI is the leading tool on the market used to measure the cultural competence of an individual, team or organization.
Using this tool alongside our foundational training will enable you to hold more meaningful inclusion conversations and to better benchmark progress.