Sponsorship Training is Essential for Advancing and Retaining Talent
Inclusive sponsorship training is an integral component of an organization's DEI initiatives. With sponsorship training, you will arm your senior leaders and protégés with the skills necessary to confidently build relationships that promote career advancement, particularly across cultural differences.
We Are Experts on Cultivating Inclusive Sponsorship Relationships
We have extensive expertise in providing strategic guidance on how to create sponsorship programs and in delivering sponsorship training. Based on our ground-breaking research and work in this space, we provide practical training that teaches leaders and protégés how to attract, build and maintain sponsorship relationships across cultural differences, where authenticity, belonging, and inclusion are essential.
Sponsorship is Critical for the Advancement of Equity-Seeking Professionals
Research conducted by Coqual (formerly the Center for Talent Innovation) reveals that sponsorship is a powerful relationship that occurs when a "sponsor" (senior leader) does a minimum of three things for their "protégé" (junior team member): goes out on a limb for them, advocates for their next promotion and provides air cover when they make a mistake.
Research also tells us that sponsorship is critical for catapulting the careers of professionals from equity-seeking communities, but only if it is done in an inclusive way.
In 2017, along with Coqual, Ritu co-authored the ground-breaking research report, Sponsor Effect: Canada, which examines the sponsorship experiences of People of Color, Indigenous Peoples and women, including the intersections between these cultural identities.
This research tells us that there is a sharp divide in the kinds of support white people, People of Color and Indigenous Peoples receive from senior colleagues. A few key findings from this report include:
Very few Canadian People of Color, Indigenous Peoples or women have sponsors, despite being highly ambitious and willing to "go the extra mile" at work
The majority of leaders in senior positions — white men — who self-identify as sponsors tend to sponsor people that are like themselves
For People of Color and Indigenous Peoples, leaders are more likely to give advice on how they can "fix" the way they are perceived. For white people, leaders are more likely to provide impactful advocacy
Many think leadership attributes are defined by white male standards, and People of Color and Indigenous Peoples are more likely than white people to hold this perception
Why Choose bci for Your Sponsorship Training​
Given that bci has conducted ground-breaking research on the impact of sponsorship on equity-seeking professionals, and co-authored a research report in this area, we offer in-depth training that teaches leaders and protégés how to attract, build and maintain sponsorship relationships across cultural differences.
We are passionate about empowering professionals from equity-seeking communities and for breaking down structural barriers in the workplace. Our specialized work with senior leadership teams and audiences from equity-seeking communities allows us to focus and tailor our sponsorship training to the needs of both sponsors and protegees. We focus on the "how" in order to help advance equity-seeking professionals into senior leadership roles. In our inclusive advocacy and sponsorship training, we focus on teaching:
The difference between mentorship and sponsorship and why this matters
The key responsibilities and behaviors for sponsors and protégés
Practical strategies for providing inclusive advocacy and support across cultural differences
We Help Organizations to Build Cultures of Sponsorship
Sponsorship is critical for creating an organizational culture that supports the advancement of diverse professionals and that is rooted in principles of equity, allyship, belonging, anti-oppression, and anti-racism.
At bci, we offer advisory services to organizations on how to embed sponsorship behaviors across key talent management areas, including: work allocation, performance management, leadership opportunities, talent calibration discussions, succession planning, and promotions.
Sponsorship is a win-win for sponsors and protégés.
It's a win for sponsors because they build a team of "go-to" people they can rely on who are loyal, who are reliable and who make the leader look good. And it's a win for protégés because sponsors unlock career advancement in offering their advocacy and support.
By opening up doors, advocating for promotions and providing air cover when mistakes happen, leaders help protégés to build their profiles, access opportunities and so much more. Sponsorship relationships are everything.
All of bci's inclusive sponsorship training can be offered in a webinar or virtual workshop format.
Sponsor Effect: Canada is a cutting-edge research report on how race/ethnoculture, gender and the intersection of cultural identities impact sponsor relationships in Canadian workplaces.
This pioneering research — the first of its kind in Canada — delves into issues around inclusive sponsorship and the challenges faced by People of Color, Indigenous Peoples and women (and the intersection of identities) in attracting advocacy.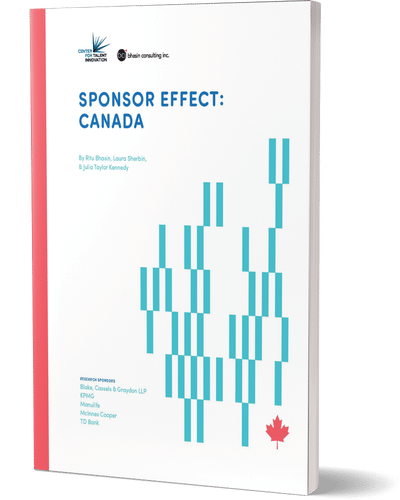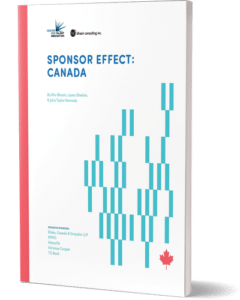 Inclusive Sponsorship Resources
The Difference Between Mentorship and Sponsorship
Inclusive Coaching — What It Is and Why It Matters
Don't Just Mentor Women and People of Color. Sponsor Them.
by Harvard Business Review
Forget a Mentor, Find a Sponsor: The New Way to Fast-Track Your Career
Interested in building a more inclusive workplace?
Don't hesitate to contact us to learn how we can help, or subscribe to our mailing list to get the latest DEI insights in your inbox every month.