Authenticity in the Workplace
Authenticity is a key building block for creating an inclusive workplace – one where everyone feels that they can bring their whole self to work and, in particular, what makes them different and unique. Our experience working with leaders has made it clear that those who are authentic in how they behave are more likely to create inclusive, empowered and innovative teams.
Authentic Leadership Programming for Your Leaders
At bci, we are fierce advocates for authentic leadership as a way to unlock your own and others' potential. Our tailored leadership programming highlights the profound connection between inclusion, psychological safety, authenticity and leadership, and draws on the expertise in Ritu's bestselling book The Authenticity Principle, which is a guide for living and working more authentically.
Why Choose bci for Your Authentic Leadership Training
Given that Ritu is an expert in authenticity, belonging and psychological safety, our authentic leadership training provides practical strategies for leaders on a range of takeaways including: how to leverage authenticity to experience heightened belonging themselves; how to increasingly create a culture where team members can bring more of their authentic selves to work; and, how to collectively live, work and lead with this spirit. Our authentic leadership training focuses on frameworks developed and laid out in The Authenticity Principle, including:
The Three Selves Framework
A model for better understanding how to be more authentic in how you live, work and lead by exploring your Authentic Self, Adaptive Self and Performing Self
The Seven Behavioral Dimensions
A deep dive into key behavioral elements to help you better understand your preferred behaviors, where you are conforming and why, when and how to adapt your behavior
Authenticity is contagious.
When you lead with an authentic spirit, your team members will be more likely to say that they enjoy working with you, that they trust you, that they feel more engaged and satisfied and that they have greater feelings of workplace well-being and meaning.
And of course, all of this will cause your team members to be more productive, feel more included and, most importantly, stay at your organization. In a nutshell, to be inclusive, you want to lead with authenticity.
All of bci's authentic leadership training can be offered in a webinar or virtual workshop format.
The Authenticity Principle
Resist Conformity, Embrace Differences, and Transform How You Live, Work, and Lead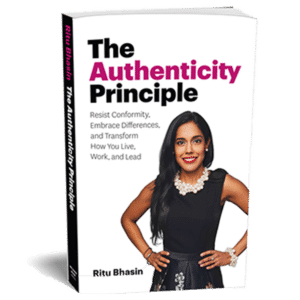 Authentic Leadership Resources
4 Essential Inclusion Skills for Authentic Leadership​
Authenticity: The Transformative Approach to Building Inclusive Environments​
Dare to Lead: Brave Work. Tough Conversations. Whole Hearts​.
Interested in building a more inclusive workplace?
Contact us to learn how we can help, or subscribe to our mailing list to get the latest diversity and inclusion insights in your inbox every month.