As you may know, given my life experiences, I'm a passionate advocate for belonging and authenticity—and not just in our personal lives, but in our professional lives as well.
This is what led me to write The Authenticity Principle, my first book and my new book We've Got This: Unlocking the Beauty of Belonging. I want everyone on this planet to experience the magic that comes with standing in your power in how you live, work, and lead.
One of the greatest insights I've had in researching and writing in this space for many years is that belonging and authenticity go hand in hand. What do I mean by this? Here I share an excerpt from We've Got This that explains the connection.
               Belonging is the feeling of being accepted for who you are by your own self and by the people you choose to be bonded with, so that you feel seen and valued. It's about your instinctive need to reveal your authenticity and, in doing so, knowing you'll be honored and respected for who you are across your identities. Because belonging is a feeling, your body will signal to you that you're experiencing acceptance, through the comforting and affirming sensations within you. You'll feel safe, calm, and at ease.
               Authenticity is the practice of consistently choosing to know, embrace, and be who you are, especially what makes you different and unique, as much as possible. It's at the root of what I call the Authenticity Principle: the life tenet that when you consistently choose to be authentic, you'll feel more joyful and connected to yourself, you'll bring this spirit into your interactions, and in doing so you'll invite people to do the same back with you. When you're practicing authenticity, you'll feel warm and uplifting sensations all over your body.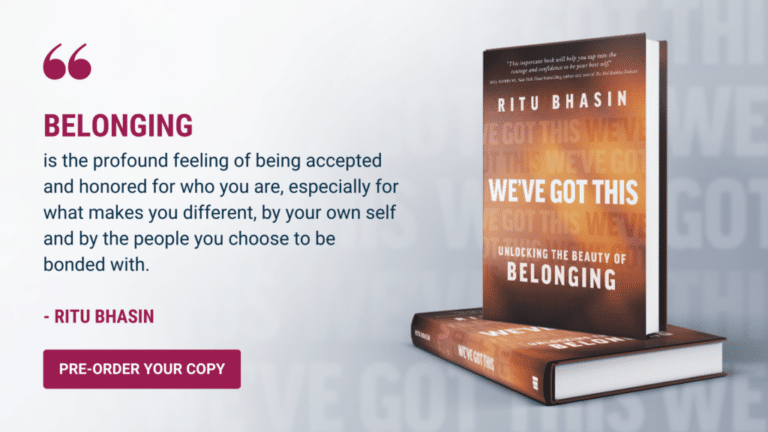 Given these definitions, it is easy to see how belonging and authenticity are inextricably intertwined. To experience belonging, you must be able to reveal your authentic self. And when you feel safe to be your authentic self, this is when you experience the greatest belonging.
              This connection between belonging and authenticity underscores an essential takeaway: the most important relationship you'll ever cultivate is the one you have with yourself. It's not until you feel seen, accepted, and loved by yourself that you'll enjoy deep and meaningful connection with others. Simply put, you won't experience belonging until you first honor your authentic self.
Excerpted from Ritu Bhasin's new book We've Got This: Unlocking the Beauty of Belonging (release date: June 13, 2023)
Learn more about how to create workplace cultures rooted in belonging in We've Got This and The Authenticity Principle.